| | |
| --- | --- |
| Article number: | SYVA390-N: 16 Chest: 42 Bk:58 |
| Availability: | On backorder |

Year Rounder Roman Cassock
Pricing based on selection; $300-$400
100% woven polyester, Machine Washable

Manufactured by the R.J. Toomey company, this is their best selling year round cassock.
Featuring:
- Made of durable 100% woven polyester
- Machine washable
- Twenty buttons, full cuffs
- Roman back with the traditional center pleat and two side pleats which conceal openings to pants pockets.
- The cassock has a half lining with breast pocket and lightly padded shoulders.
- This cassock comes gift boxed.

Please specify size when ordering. See size chart below for details. Custom sizes are available. Call (312) 919-0925 for assistance. The Cathedral Cincture is sold separately.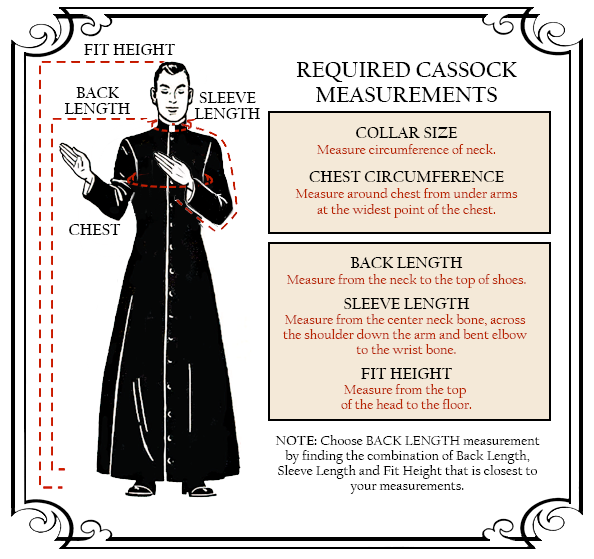 Step 1 - Choose Chest and Collar Size

 
Chest Size
Roomey Toomey
Roomey
Toomey +
 Collar 
 Size
 
38"
40"
42"
44"
46"
48"
50"
52"
54"
56"
14.5"
X
 
 
 
 
 
 
 
 
 
15"
X
X
 
 
 
Custom Sizes Available
 
15.5"
 
X
X
 
 
 
 
 
 
 
16"
 
 
X
X
 
 
 
 
 
 
16.5"
 
 
 
X
 
 
 
 
 
 
17"
 
 
 
X
X
 
 
 
 
 
17.5"
 
 
 
 
X
X
 
 
 
 
18"
 
 
 
 
 
X
 
 
 
 
19"
 
 
 
 
 
 
X
 
 
 
20"
 
 
 
 
 
 
 
X
 
 
21"
 
Custom Sizes Available
 
 
 
X
 
22"
 
 
 
 
 
 
 
 
 
X
 
 
 

Step 2 - Choose Back Length/Sleeve Length combination
 

| | | |
| --- | --- | --- |
|  Back Length |  Sleeve Length |  Fit Height |
|  56" |  32" |  5'6" - 5'8" |
|  58" |  33" |  5'8" - 5'10" |
|  60" |  34" |  5'10" - 6'0" |
|  62" |  35" |  6'0" - 6'2" |
|  64" |  36" |  6'2" - 6'4" |