| | |
| --- | --- |
| Article number: | SY1014 |
| Availability: | In stock |

Vesperale, Handcrafted to Fit Your Altar


This item brought to you by the Saint Martha's Guild of St. John Cantius Church.
Exclusively from Biretta Books, this handcrafted
vesperale
is a traditional felted wool altar cover that protects the linens when the altar is not in use. It is a beautiful addition to altar dressings that indicates that the sanctuary is at rest. Its purpose is to protect the expensive linen altar cloth from stains, dust, and soot, and most especially from the burns that commonly occur during the lighting and extinguishing of candles.
The
vesperale
has a generous drape, usually around nine inches, on all sides to cover and protect the linen altar cloth beneath it. The felt is wool with a small amount of polyester in it to make it less attractive to moths. It is traditionally green or red with scalloped edges and embroidered lettering on the front. The lettering can be any traditional Catholic phrase for the sanctuary.
A few options are:
Sanctus Sanctus Sanctus (Holy, Holy, Holy)
O Bone Jesu (O, Good Jesus)
Ecce Angus Dei (Behold, the Lamb of God)

IMPORTANT: PLEASE READ THE FOLLOWING INFORMATION BEFORE PLACING YOUR ORDER:
Because each vesperale is custom-made to order
delivery of your order can take up to four weeks to complete
.
The following information is required to complete your order:
Length and width measurements of the top of your altar


Whether your altar is a high altar (three-sided) or an altar table (four-sided)


Your color preference - Red or Green (other colors may be available upon request but will delay delivery)


The phrase you would like embroidered on the front.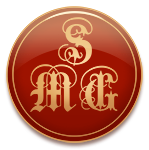 The Saint Martha's Guild from St. John Cantius Church in Chicago produces these beautiful, handcrafted vesperales using an antique Cornely embroidery machine - the workhorse of liturgical embroidery houses for almost 150 years. The machine allows them to resurrect the traditional chain stitch embroidery that lent beauty and dignity to vestments in the past.